Replace The Fog Light Or Drl Bulbs
on a Chevrolet Camaro
This article is visible to only you.
Read how to replace 2010, 2011, 2012, and 2013 Chevy Camaro fog light or daytime running light bulbs. This article shows us upgrading to LED bulbs that match the HID headlights and halo rings.
Though positioned like fog lights, these lights are used as daytime running lights (DRL). You will see them commonly called by both names, but DRL is technically correct.
The pictures in this article show a 2012 RS Camaro (actually a sweet 2012 45th anniversary model). However this article will have information for non-RS Camaros as well.
It's worth noting that GM changed the DRL bulbs sometime in the 2012 model year. If you have a 2012+, be sure to pull out one of your bulbs first to check which bulb your's uses. They look similar, however the tabs on the connector are different. iJDMToy.com has a bulb that fits all years, so we bought their bulbs for this install. They explain the differences between their P13W LED and the PSX26W.
How To tell the difference between an RS and non-RS Camaro
The easiest way to tell is if your car has factory installed HID and halo rings like the ones shown above. V6 models with have RS badges, and V8 models will have red SS badges. Keep in mind that an SS does not necessarily have the RS package.
2010-2012 RS DRL / Fog Light Bulb: P13W changed in late 2012
2012-2013 RS DRL / Fog Light Bulb: PSX26W changed in late 2012
2010-2013 NON-RS DRL / Fog Light Bulb: 5202
Remove The Stock Daytime Running Light Bulb
1
Removal can be done one of 2 ways: Through a small opening between the bumper and wheel well, or remove a few allen screws from the wheel well and gain a little room.
We installed ours without removing the wheel-well screws, but we probably spent just as much time fumbling with the bulbs in a precarious position.
2
Disconnect the connector from the bulb.
3
Remove the bulb by rotating counter-clockwise.
Install Your New Bulb
4
Pictured is the iJDMToy.com 18 SMD LED bulb we used. The bulbs are designed for 2010-2012 Camaros, but will fit 2012-2013 Camaros with a few extra steps during installation.
5
For LED bulbs, flip up a little plastic tab on the housing to allow the bulb to fit.
6
Connect the bulb to the harness before installing the bulb into the housing.
According to iJDMToy, if your using a 2012 or newer car that uses the newer bulbs, the LED's we bought will still fit. The plastic in the connector has enough give in it to allow you slide it the new bulbs in, it just requires some additional pressure. As long as you can get the clip to engage, you should not have any issues with these bulbs.
7
Simply install the bulb, turning counter-clock wise to tighten.
Note that the bulb has different width interlocking studs around it's circumference. Orient these in the same way they'll fit into the housing.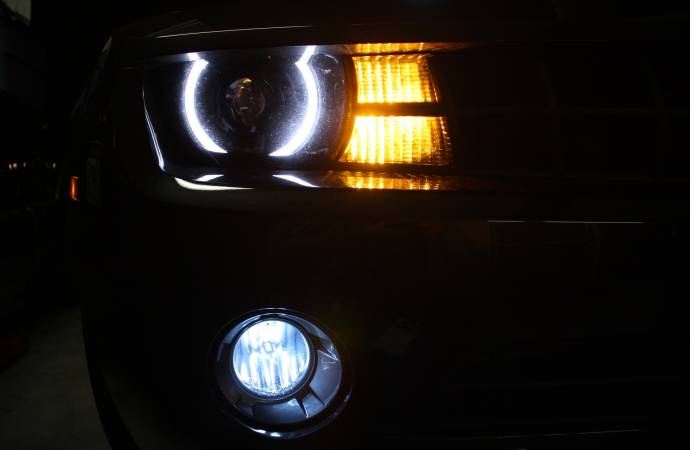 Despite buying iJDMToy's bulbs and mentioning them several times in this article, this article was not sponsored by them. We just like their products and in depth installation instructions.
However buying items using the links in the article will help us pay for HowTune. If you wish to buy their products, help support us by visiting the parts section links. Thanks!