Replace The Air Filter
on a 3.7 V6 Ford Mustang
This article is visible to only you.
Changing the engine air filter on a 2011, 2012, 2013, and 2014 3.7l V6 Mustang is very simple with this guide in your pocket.
This article includes all the parts you'll need to get the job done right the first time.
Pop The Hood
1
Super easy, just pull the handle on the driver's side kick panel and pop open the hood.
Locate the Air Filter
2
Pretty easy, the filter is on the driver's side front corner in side the big air intake box.
Open The Air Filter Box
3
Unclip the 2 easy release clips on the rear of the air box.
4
Push the air filter box lid forward to slide it over the two tabs on the front.
5
Then just lift the lid to reveal the air filter.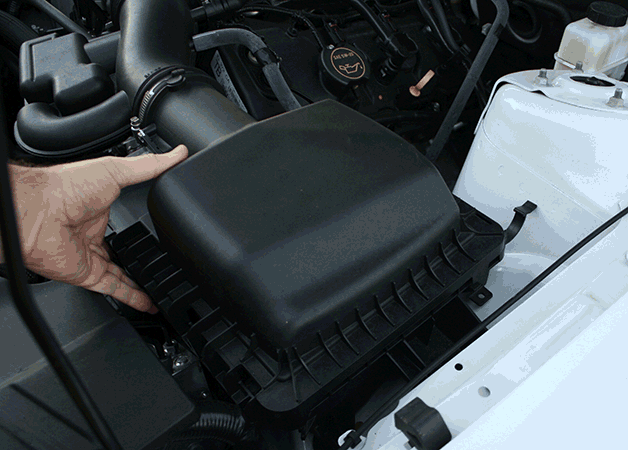 Remove and Inspect the Air Filter
6
The air filter easily comes out of the intake box.
7
Check it for debris and replace or upgrade as needed. This one shows use, but still has quite a few miles left before it needs to be replaced.
Clean Out the Intake Box
8
Clean out any leaves or junk caught in the intake box. This one's pretty clean.
Place New Filter in Intake Box
9
Pretty basic stuff here, place your new air filter in the box. It can only go in one way, so there should be no mysteries to solve.
Close Intake Box
10
Slide the front plastic tabs of the intake box lid in place and close the 2 clips on the rear of the intake lid.
11
You're all done. Beer time!