Replace The Key Fob Battery
on a Mazda CX-5
This article is visible to only you.
The Mazda CX-5 key fob is needed to lock, unlock, and start the vehicle. Unfortunately it doesn't give you any low battery warnings.
Luckily, replacing the battery is very simple task.
Flat head screwdriver or prying tool
1
Remove the key from the fob by pushing the tiny switch and pulling on the key ring.
2
Using a prying tool, gently pry the 2 halves of the fob apart. Work your way around the fob slowly.
3
Remove the battery cover by pulling it off with your fingers.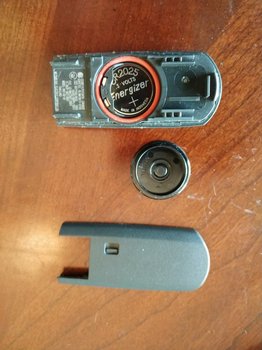 4
Remove the battery and replace it with a new one.
Be sure to remove any stickers that may be on the new battery.
5
Re-assemble everything and test it out.
The fob should not require any reprogramming.